https://thegraniteempire.com quartz kitchen countertops. . http://modernvet.com emergency vet dubai zabeel veterinary hospital in dubai.



SHD′s popular Finding Your Way booklet now has updated content and a more contemporary design. First published in 1998, Finding Your Way encourages early family discussions and helps patients and their loved ones consider difficult decisions about medical treatment near the end of life. More than 500,000 copies have been distributed by doctors, nurses, social workers, chaplains and clergy throughout California and the U.S. The booklet is also available in Spanish, Como Encontrar Su Camino (update available soon).
Finding Your Way: Medical Decisions When They Count Most was developed in response to the concerns of healthcare professionals and consumers that:
Many people never think about their own views and values regarding end-of-life decisions until a crisis hits--when decision-making is most difficult.
Healthcare professionals themselves often have difficulty initiating discussions about end-of-life decisions with their patients--and there are few tools available that provide a gentle but direct way for introducing this topic.
There is an abundance of material about advance directives, but for some people completing a legal document may not be the place to start.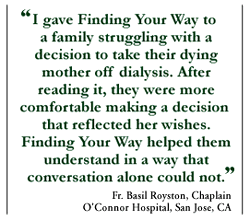 Dozens of healthcare organizations in 39 states have ordered the booklet. CalPERS purchased 50,000 copies for its members, and the California Department of Health Services ordered 150,000 copies for distribution to nursing homes in the state.
Ways Finding Your Way has been helpful:
With high-risk patients or those who understand they have a potentially terminal diagnosis.
For family members who may be facing difficult decisions for a loved one.
To orient healthcare personnel in their role of counseling others on end-of-life decisions.
For patients or health plan members as part of a basic package of educational material.
Ideas for distributing the booklet:
Through hospital patient/health education departments.
At advance directives workshops or consumer health fairs.
In brochure racks in physician/hospital examination or waiting rooms.
In skilled nursing facilities for residents and family members, other residential care settings, or through community or home-based programs.